Rock Spring Specializes in Elopements

Are you looking for a simple, romantic and stress-free way to tie the knot? Do you want to skip the hassle of planning a big wedding and focus on what really matters: your love for each other? If you answered yes, then you might be interested in eloping at Rock Spring!
Carolyn Berry, a wedding officiant, specializes in creating unforgettable elopements for couples who want to say "I do" with a personalized ceremony in a beautiful countryside setting.
Our elopement packages are affordable and flexible and customizable. You can also invite up to 10 guests to witness your vows and celebrate with you. We will make sure that your elopement is a memorable and meaningful experience that reflects your personality and style.
Don't wait any longer, contact us today and let us help you plan your perfect elopement!
Ricky & Ashley, the first couple to elope at Rock Spring, chose an outdoor ceremony setting with a cake and cider reception in the sunroom.
The Weddings at Rock Spring Signature Cake is a two-tiered white cake with buttercream frosting. The cake is available in several flavors and a variety of flower decorations.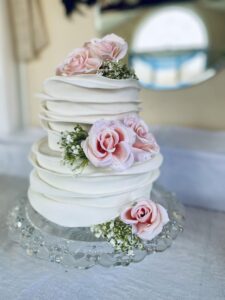 The Wedding Pavilion features a macrame hanging and assorted plants. Benches set beneath stately trees allow up to 10 guests to witness the wedding ceremony in a shaded area. Three patio tables and umbrellas provide seating for an outdoor reception.

The 1936 Packard is available for photo shoots!